Slot Die Coating Applications
How Slot Die Coating Works
Slot die coating is a converting process used to deposit liquid coating solutions onto glass, metal films, and plastic substrates for use in a wide range of applications. This is achieved through the precise metering of fluid and dispensing it at a controlled rate while the slot die or substrate are moved relative to one another.  The figure shows a typical application of a stationary slot die on a roll-to-roll web.  A slot coating die device is capable of holding a liquid solution at a constant room temperature or in some cases, heated to an elevated temperature.  Coating uniformity is excellent and thickness is determined by liquid feed rate and web speed.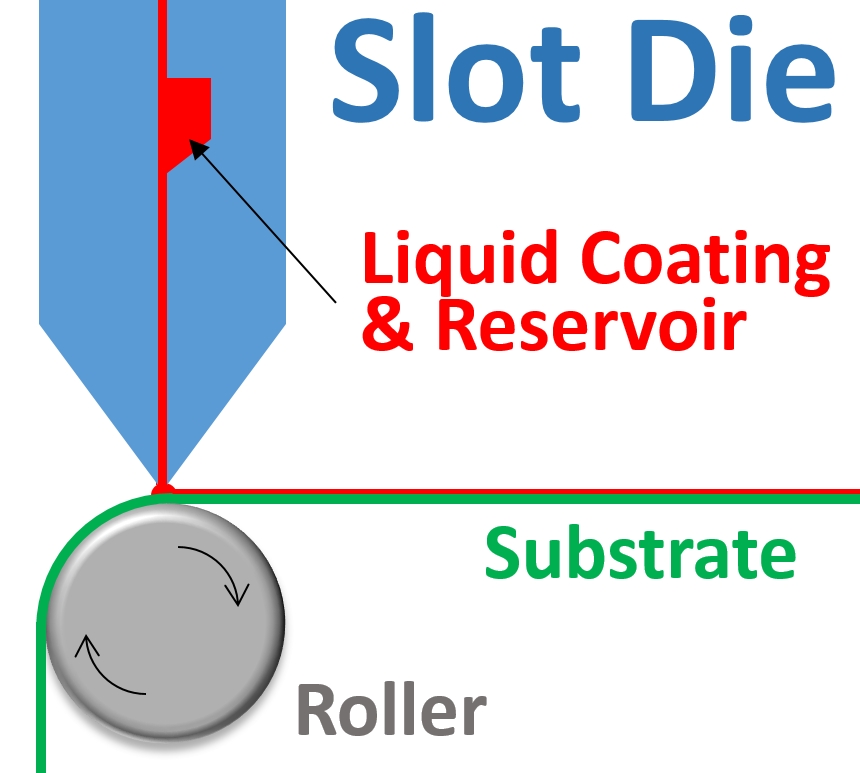 BSR slot dies offer a number of important advantages over others commercially available.  The body, consists of two precision ground, stainless steel halves with one consisting of the reservoir.  Various shim thicknesses can be selected to determine the 'lip' or slot opening width depending on liquid viscosity, feed rate and ultimately, coating thickness.   
BSR Slot Die Advantages:
2 piece precision ground design - fast to disassemble
Easier to clean
Doesn't leak
Small reservoir or 'dead space' important for minimizing loss of expensive coating solutions
The critical function of a coating die is to maintain the fluid at a constant temperature for application, distribute it uniformly to a desired coating width, and apply it to the substrate. The resultant outcome is an apparatus which is capable of efficiently coating uniformly whilst delivering a constant supply of solution to the slot die.  This helps increase speeds at which the process is achieved giving an increase to production rates. The precision of the slot die allows production of spineless coating consistency due to the fluid delivery system which ensures a constant supply of coating solution. The flow / speed rate is also controlled and regulated to give a variation in coat-weight if need be. The fluid delivery system is made in such a way it provides a non-pulsing constant feed of solution to the die.
A slot die coating system is made up of 4 key components.
The Die
The slot die pre-meters the solution on to the substrate, and is split into top and bottom sections, and within the die is a flow channel. There is a manifold that distributes the coating solution which enters the die and is made in such a way it generates a uniform flow of fluid which exits through the exit slot of the die.
Die Positioner
This component is adjustable via micrometers in such a way it precisely angles the slot coating die at an optimum position as well as proximity to a roll. The positioner isolates the die from vibrations which might disrupt the coating process and is integral to the whole system. Hence it acts as the stabilizer of all interactions between the die and the moving web.
The Roll-to-Roll Conveyor
This component provides the place of interaction between to substrate, solution and slot coating die. It has the surface that is used for most coating processes and techniques.
Fluid Delivery System
For the delivery of a non-pulsating constant as well as consistent feed of fluid to the die.  At a minimum, this consists of precision pump.  Temperature control and filters may be used to remove particulates and bubbles from the solution.  In certain applications, additives may be introduced into the delivery system.  As this is a sealed system, atmospheric debris is eliminated as seen in gravure coating systems.  In fact, multiple coating layers can be deposited simultaneously.
Pre-metered slot die coating is increasingly being applied in industry due to excellent film uniformity both longitudinally and traversely, high production throughput, little to no contamination and excellent repeatability.  BSC has been at the forefront in coating technology having implemented the first commercially viable coating technique for organic photovoltaics.  Additionally, BSC provided a solution for coating of automotive headlights which resulted in a 50% increase in light output. 
For a free evaluation of your application, please contact us today.